how to make nice blonde color by hair salon 712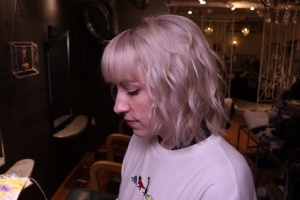 My client has been dying her hair just one blonde color.
However, it wasn't even, and there were some yellow spots.
She doesn't like any yellow or warm tones, she prefers more grey tones or icy blonde.
She wanted to achieve an ombré look, which is a darker color at the roots.
However, the most important thing is to cancel out the yellow color, and balance out the uneven shades.
So we did highlights and a toner.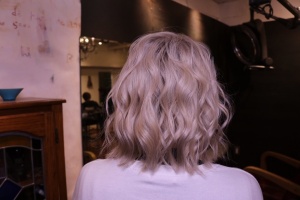 It needed a lot of highlights, and I tried not to apply too much because it is already damaged at the ends.
Then I put a toner on her hair to cancel out the yellow color.
The toner helps to control the shade, which means it can have more depth of color or look brighter.
So each time you can choose which shade you would like to have.
When she came in the salon, her hair was already damaged and thinned at the ends.
So we cut it shorter, which she didn't want, but she wanted to refresh her healthy look.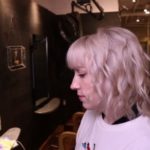 It takes time to grow it out, however when you find the right way to keep your blonde color, you can maintain healthy hair and look good.
You can also enjoy having different shades of blonde color.
Hair salon 712
English speaking International hair salon in Daikanyama Tokyo
(For Blonde,Balayage,Brunette,any hair color)
Mail info@712sevenonetwo.com
Phone 03-5787-6384
Instagram hair712yuki
Facebook https://m.facebook.com/hair712yuki/