warm blonde hair color is good for winter time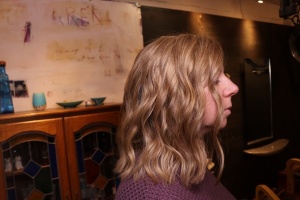 how to make warm blonde hair color?
A client of mine used to have a different shade of blonde.
It was a cooler tone.
However, this time, she wanted to change to a warmer tone.
So I used three different color(light highlights and light brown highlights and lowlights).
The hardest thing was to decide which shade would work best for her, because it should be not too warm, but not too cool either.
It is also important to know how to put apply highlights and lowlights.
I think this is the technique of the hairdresser.
So, when people say that they want to have blonde hair, they need to choose which type.
There are actually a lot of shades of blonde color (icy blonde, honey blonde, etc..).
Please show me any pictures, then I can explain how it will work for you.
A shoulder length, bob style has become a recent trend.
My client used to have her hair a little shorter, but she was trying to grow it out.
The bob style suits her.
I think the most important thing is enjoying your hair.
I'm happy to help maintain which ever style you want.
Hair salon 712
English speaking hair salon in Shibuya
(For Blonde,Balayage,Brunette,any hair color)
https://www.712sevenonetwo.com/
Mail info@712sevenonetwo.com
Phone 03-5787-6384
Instagram hair712yuki
Facebook https://m.facebook.com/hair712yuki/