Best place for getting Brazilian keratin treatment in Tokyo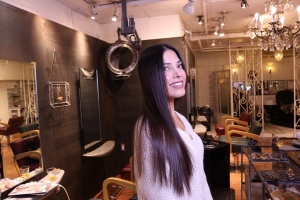 My client had a Brazilian Keratin Treatment two weeks ago.
She liked the results, because it became easier to style and reduced her frizzy hair.
Just one thing that she didn't like, was that it made her hair oily around the roots.
It happens sometimes, but we don't know before we do the treatment.
So next time, I will put a Brazilian Keratin Treatment on without 2cm of roots.
Every time we can achieve better results, and this is also the same thing with other services.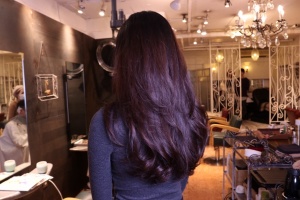 My client had long hair before.
Then this time, she didn't want to change her length, but she wanted to have a different look.
So we decided to layer it.
It was nice before, however it's even better now. She looks more elegant.
To create a smooth, bouncy style, you need to use a big round brush when you dry your hair.
The point of using a brush is pull it hard and rotate it.
It's hard to explain, so I will show you how to do this when you are in the salon. This is another technique.
I know a lot people don't have time to do It.
However, when you used to achieve this this style, you will enjoy your hair more.
Hair salon 712
English speaking hair salon in Shibuya
(For Blonde,Balayage,Brunette,any hair color)
https://www.712sevenonetwo.com/
Mail info@712sevenonetwo.com
Phone 03-5787-6384
Instagram hair712yuki
Facebook https://m.facebook.com/hair712yuki/