Best hair dresser(stylist) in Tokyo with foreigner friendly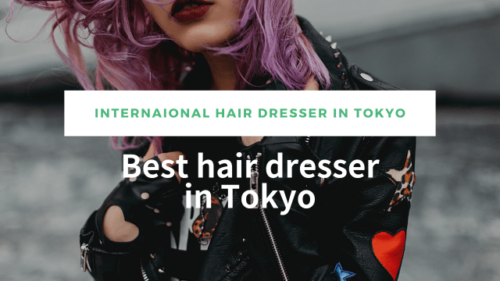 Are you looking for best hair dresser in tokyo?
There are so many foreigner visiting Japan and they have good hair service experience in Japan .
Especially Japanese hair service is much better than other countries.
Reason why is that most of Japanese hair salon offer not only hair service.
They offer hair service and hospitality.
Japanese hair salon focus on making customer beautiful and happy at the same time.
They try to make customer comfortable at the salon and offer drink, book ,and shoulder massage etc
If you have any chance please visit one of best hair dresser below.
They are popular in Japan and you can have good experience.
Hair salon 712 was featured in the Top 10 most popular international hair salons in Tokyo.
Top 10 international hair dresser(stylist) in Tokyo
There are so many hair dresser called "English speaking" "International" "foreigner friendly"
But no one knows till you see them and get their service .
Here are Top 10 hair dresser in Tokyo and They are so many experience with foreigner hair and have experience working overseas so that you can count on them.
If you are visiting Tokyo and thinking about getting hair service Please try one of hair dresser from the below.
Yuki Sato at Hair salon 712
"I'm a specialist in coloring and styling foreign hair. Brunettes and Redheads are also in capable hands. I pride myself on being able to create the best hairstyle for your face shape and lifestyle. If you are looking for a fun, fresh and exciting change or just need a different approach because your hair condition has changed, l can create a style that suits your needs. English speaking hair dresser give you the best of hair style ever ! Hair salon 712 has a lot of foreigner customers and specialize Balayage highlight color and Brazilian keratin treatment ! Besides Mens customer also welcome as barber! 【Best Hair dresser in Tokyo】 【Best english speaking hair salon in Tokyo】(hair salon Tokyo,Shibuya)
Ai Nomura at Baroque Tokyo
"【Baroque Tokyo】is the best English speaking hair salon in Tokyo. All hair dresser have experienced working in overseas and are foreigners friendly. Baroque Tokyo specialized 『Balayage highlights』『Straightening 』『Sculpting haircut』『Perm』etc Baroque Tokyo is close to Omotesando, Harajuku and Shibuya station. Kids cut , Mens cut also available
Naoto at Pia hair salon
"PIA Hair Salon Tokyo location opened in Shibuya in 2017. We are one of very few English speaking hair stylists in Japan and we are experienced with diverse hair types."
Keizo at Sozo hair&make
"We are the best english speaking hair salon in Tokyo. SOZO Hair and Make is a salon that was founded in 2010 by Keizo and Taa, who both hold the same values, after having investigated haircuts in London, New York, and Tokyo for many years and their talents being recognized. The staff who have come together under these two hairdressers who know the world possess high technical skills, language ability, and a global perspective. As a result, SOZO are highly valued by well-known Japanese people, foreigners, and foreign models. Repeat customers are over 90%.
Yoshiatsu Iijima at Number76®️
"Hair Salon NALU is now known as Number76 Tokyo. An English-friendly hair salon located in the stylish district of Omotesando, Tokyo. We aim to provide pleasant hospitality and professional services to welcome every guest who steps into the salon. A distinctive atmosphere to make each visit an enjoyable, pampering experience to look forward to every time."
Yoshiko Morimoto at Afrodita
"A beauty salon that aims for a language barrier-free for those who live in Japan, those who come for a sightseeing or any foreigners to have a wonderful hair experience here in Afrodita with our skilled Hair stylist who trained in U.S and U.K and friendly assistants."
Kengo at ke-salon
Ke'International celebrate individuality and welcome people from all over the world. An accomplished team of talented hair stylists provides first-class customer service and superior styling.Ke'International also believe in building new talent. Kengo's team is dedicated to giving customers the perfect cut/colour/perm to suit their personal style. Salon de Coiffure Ke'international and Lévi beaute coiffure
Kenji at ​​KENJI-HAIRSTYLIST
"Let us work with you to find a style that​​​ not only follows trends, but also brings out your own personal beauty. Come visit us today for your hairstyle and your lifestyle.
Ken Kobayashi at Assort
"An international hair salon located in Tokyo, with English speaking staff (hairdressers). We have proudly achieved to be the #1 salon in Tokyo from the "Leading Hair Salons Worldwide". The reason we have such a high reputation in the beauty industry for international clients, is due to our focuses on design and precision, NOT JUST LANGUAGE. Sure, pick any hair salon if you are just looking for an English speaking hair dresser (which we are sure there are plenty these days). Pick Assort International Hair Salon Tokyo for a good cost performance hair salon which suits your needs. Please visit our Osaka, New York, Hong Kong, Amsterdam, and Sydney branch as well."
DAISUKE KAWASAKI at one world
Daisuke Kawasaki,a licensed barber and hair dresser with 20 years of works experience.(including 2 years stint in Europe)
We named our salon 【One WORLD】 to convey its one-size-fits-all message. We could not have chosen a better place than Azabujuban in order to offer our Japanese Omotenashi hospitality and service at our hair salon to meet the needs of Non-Japanese families.
So no need to worry about language communication.Trust us and tell us how you want your hair done & we will do rest. Looking forward to welcoming you very soon at One WORLD!
Japanese hair dresser in Tokyo speak English well?
Many people worry about if you get salon and your stylist can't speak English .
Some time that happen and you can't communicate well with your stylist so that your hair style is not what you want.
If there are language barrier you can't have nice experience at Japanese hair salon in Tokyo.
But no problem.
As we pick top 10 hair dresser all speak English very well.
Most of hair dresser has experienced working oversea and good enough to communicate with.
You can talk with them about your hair style, life style ,hobby, and any things you want to talk about.
Japanese hair dresser is good skill ?
Maybe you are thinking about even if they speak English well you are not sure about their skill right?
Especially hair is very important things for customers.
So basically it's difficult to leave your hair on stylist who are not same nationality.
But all the hair dressers are experience working on foreign hair and they know how to do with each hair texture.
Even if you have damage, thin , flat ,curly ,kinky hair they can manage it and offer you best of hair style ever.
How much is hair dresser in Tokyo?
If you are thinking about going to have hair service you need to check price first .
A lot of hair salon charge different price depend on Japanese hot pepper website or their home page.
Most of Japanese hair salon use coupon site like Hot Pepper beauty and price is big difference compare to normal price.
In Japan coupon site is still popular and many Japanese hair salon use it for getting new clients.
If you are Japanese speaker you can use it but if not you will be charge regular price.
Basically hair cut is around 5000 to 8000 yen in Tokyo.
If you like to get cut and full color would be around 10000 to 18000 yen.
How to book an appointment with best Japanese hair dresser in Tokyo?
Basically if you like to work with them you can call salon directly.
Most of salons are available English on the phone and you can use online booking as well.
If you still worry you can go to salon directly to book an appointment with them.
Going to salon directly is good way to know about salon and atmosphere and their customer service.
There are many good things you can see on internet and review but you had better to see by yourself is to help you to sure salon is good or not.
So many people use review site and google but no one know the hair salon is good or not till you see with your eyes.
How long experience with foreign hair with Japanese hair dresser ?
Most of best hair dresser in Tokyo are experienced more than 10 years.
They have worked oversea and still working with foreign hair in Tokyo so that they are the most experience hair dresser with foreign hair in Tokyo.
There are many international hair dresser in Tokyo and some of them experience only 2 to 3 years.
If you are looking for good hair dresser in Tokyo please pick one from the Top 10.
They are popular in Tokyo as international hair dresser and foreigner friendly.
No language barrier and you can count on them.
What hair service is poplar in Tokyo?
Of course hair cut is most popular hair service.
A lot of asian customers try to come Japan to get nice digital perm style.
Asian customer love wavy style and because of it they visit Tokyo some time.
Caucasian customers are getting balayage highlights or Japanese hair straightening is popular.
Especially Japanese hair straightening and smoothing skill is best with Japanese hair dresser.
Besides they use mild chemical for customers so that your hair is less damage with super shiny healthy hair.
It worth to have that kind of service if you visit Tokyo.