balayage highlight & big wave is best combination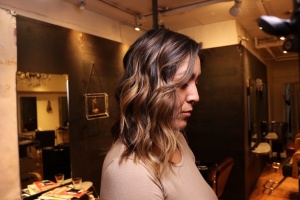 The point of this color is to have a two tone Balayage.
This means if it's only one color, it may be too blonde or too brown, so this technique allows it to be a blend of both.
It gives her hair movement and contrast.
Also, I made her hair wave with straightening irons.
It's a nice combination, the Balayage with wavy hair.
It looks elegant, but is casual as well.
This needs some patience and practice if you want to do it by yourself at home.
But once you get to know how to do, it will be much easier and faster to style.
Let me explain my little tips;
– pick a small piece of your hair.
– pull on your hair, then at the same time as pulling you need to twist it 180 degrees.
– leave the ends a little straighter.
And I highly recommend to use the heat protection products and volume products when your hair is wet.
You have knowledge of how to work with heat protection.
However, you probably won't see the difference if you only use it once, but if you often use straighteners, you will understand the difference in the condition of your hair.
The volume products help to keep the wave more than the spray.
I hope you have fun trying!
If you can't get the hang of it, I can explain how you do it.
Hair salon 712
English speaking hair salon in Shibuya
(For Blonde,Balayage,Brunette,any hair color)
https://www.712sevenonetwo.com/
Mail info@712sevenonetwo.com
Phone 03-5787-6384
Instagram hair712yuki
Facebook https://m.facebook.com/hair712yuki/